Happy Wednesday one and all! I hope your week is going well so far, time to start making those weekend plans!
Today we dive head first in to ancient Rome! The Romans, as we all know, were a polytheistic society and as a result had dozens of gods and goddesses. Some of them are very well known, such as Jupiter and Juno, and some were probably known only to people on area of Italy. Today I bring to you one of the lesser known goddesses, Meditrina. There was a small festival, the Meditrinalia, celebrated in October in honour of the new wine that had been created that year. At some point someone realised that they needed a deity to go with this festival, so they added Meditrina.
And now someone on Etsy has drawn her and put her on a card!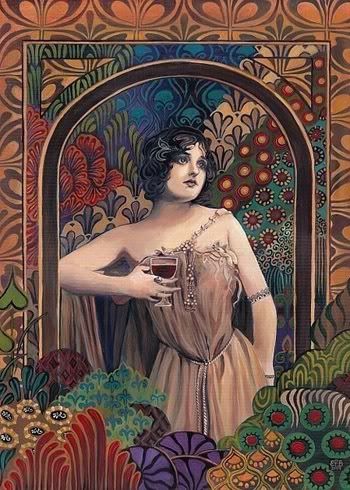 I think this picture is great! I love way she's been drawn with 1920's-flapper hair and the colourful decoration around the figure. It was done by
EmilyBalivet
, who has lots of other gods and goddesses from various cultures in her shop. You can either buy greeting card sets, prints, or the original artwork! Definitely go have a look at her shop, her "Eros and Psyche" painting is also awesome.